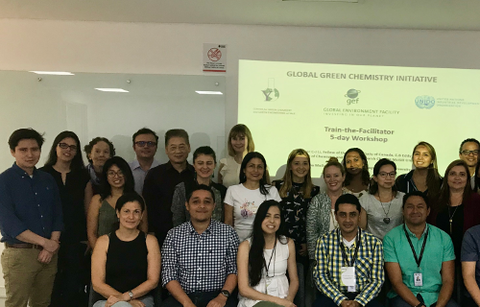 The end of January 2019 marks completion of the Yale-UNIDO Global Green Chemistry Initiative Train-the-Facilitators workshop in Colombia. The fourth workshop in the series was held in Medellín and was hosted by the Centro National de Produccion Mas Limpia – Colombia led by Carlos Cadavid and supported by Gloria Restrepo. The event took place at Universidad Pontificia Bolivariana, a private university in Colombia which was founded in 1936.
26 participants attended the workshop and represented academia (Universidad Pontificia Bolivariana, Universitad EAFIT), industry (Polikem), government (Área Metropolitana del Valle de Aburrá), Consulting (Ambientalmente), and two National Cleaner Production Centers – Colombia and Peru. The event was supported by UNIDO representative - Luis Humberto Umanzor Hernandez.
Similar to the recent Train-the-Facilitator workshops held in Sri Lanka, Serbia, and South Africa, the workshop in Medellín was delivered to empower stakeholders to become catalysts of green chemistry in their countries and to disseminate green chemistry to their communities. The event was delivered by Professor CJ Li from McGill University, who was assisted by Dr. Karolina Mellor from the Center for Green Chemistry & Green Engineering at Yale. During the 5-day workshop participants were instructed on a wide range of topics to equip them with tools to become green chemistry facilitators. These topics included green chemistry and economic advantage, green chemistry and its role in sustainability, and benefits of green chemistry in different sectors: feedstocks, solvents, energy, catalysis, waste, and new molecules with reduced hazard. The workshop allowed participants to discuss green chemistry as a group and participate in several hands-on exercises that focus on green chemistry tools and practices.
The workshop ended with the presentation of green chemistry initiatives and technologies which are currently developed Colombia. Inspirational talks and experiences were shared by Carlos Andrés Pérez López from Polikem, Carlos Ocampo López, Jorge Juan David Martínez from Universidad Pontificia Bolivariana. The entire 5 day event encouraged interactive engagement and networking among the participants and resulted in vigorous exchange of experiences and ideas among researchers.
"The Train-the-Facilitators was a great opportunity for all the participants. For some of them it was their first approach to green chemistry while for the others it was an opportunity to study in depth and be aware of the 12 principles, be familiar to real applications of green chemistry in different context, including the Colombian context" said Gloria Restrepo, NCPC representative. She added " Based on the knowledge gained on green chemistry, teachers that were part of the formed group will use this to improve the current courses but also to develop new ones as well as to improve the draft of green chemistry curricula that the university is developing. Professionals from the industrial sector will make improvements on processes and product but also will measure changes already implemented. Consultant and others professionals will integrate green chemistry as a tool to solve complex situations or make processes/products more sustainable".