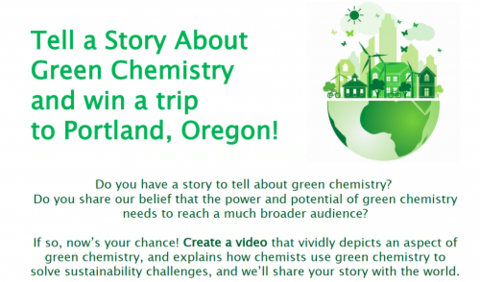 Attention all postdoctoral, graduate, and undergraduate students: do you have a story to tell about green chemistry? Do you share our belief that the power and potential of green chemistry need to reach a much broader audience?
If so, now's your chance to be heard! Channel your creativity and harness your passion. Create a video that vividly depicts an aspect of green chemistry, and explains how chemists use green chemistry to solve sustainability challenges, and we'll share your story with the world.
The producers of the best video will win a trip (flight, hotel, conference registration)* to the 2018 Green Chemistry & Engineering Conference in Portland, Oregon (June 18-20, 2018) to show your video to world leaders and conference participants in the field of green chemistry.
Eligibility
The competition is open to all postdoctoral, graduate or undergraduate students.  Individual and team (up to 3 people) submissions are welcome.
Deadline
All videos must be uploaded by May 6th, 2018.
Video Length
Approximately 3 minutes or less.
Video format
Most video formats are acceptable. Compatibility with YouTube is required for submission.
Interested? Please check out this page: https://www.global-green-chemistry-initiative.com/students for details and submission.