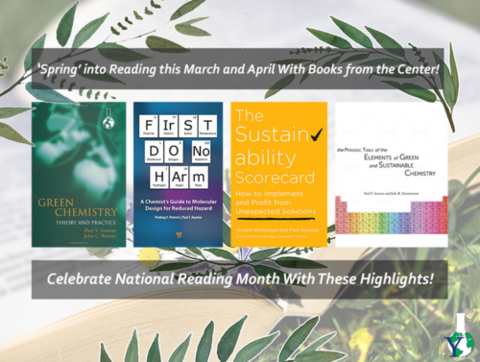 Celebrate National Reading Month and 'spring' into a good book this March as the Center for Green Chemistry and Green Engineering highlights recent and upcoming reads from our scholars! Choose your next read from a few of the Center's top picks!
     Look out for First Do No Harm: A Chemist's Guide to Molecular Design for Reduced Hazard (Predrag V. Petrovic and Paul T. Anastas, 2023), to be published in spring 2023. Read to heal Paul Anastas' and Predrag Petrovic's account of the dangers of chemical toxicity and compelling call for a new Hippocratic Oath for chemists—"First, do no harm!"
     Can't wait until spring? Authors from the Center have published other excellent recent reads in 2022 and 2020. Read The Periodic Table of the Elements of Green and Sustainable Chemistry (Paul T. Anastas and Julie B. Zimmerman, 2020), which presents a new vision for the elements needed for a better world. Then, interested in a way forward for businesses and companies who want to think green? Check out The Sustainability Scorecard: How to Implement and Profit from Unexpected Solutions (Urvashi Bhatnagar and Paul T. Anastas, 2022), which outlines ways for entrepreneurs to select sustainable strategies and processes for the betterment of the planet.
     Want to return to a classic? Read Green Chemistry: Theory and Practice (Paul T. Anastas and John C. Warner, 1998), which is celebrating its 25th anniversary this year! Read to understand what green chemistry is, why we do it, and why its urgent call to action is still needed all these years later.
First Do No Harm:
The Periodic Table of the Elements of Green and Sustainable Chemistry: 
The Sustainability Scorecard:
Green Chemistry: Theory and Practice: