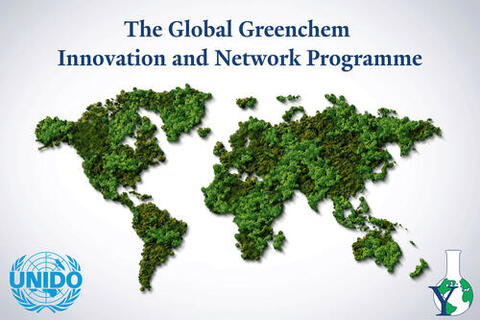 Thursday, February 2, 2023
            As part of an on-going effort to advance the adoption of green chemistry for achieving the United Nations Sustainable Development Goals, the Yale Center for Green Chemistry and Green Engineering and the United Nations Industrial Development Organization (UNIDO) have launched a 6-year, $12.6M program that will involve nations around the world. The program,  the Global Greenchem Innovation and Network Programme, will develop an integrated international network that links newer green chemistry efforts in emerging economies with established green chemistry centers, creates accelerators and incubators to facilitate green chemistry commercialization for local economic development, and engage in green chemistry demonstration projects at scale in the Global South.  This effort will continue the demonstration that we can create economic, social and environmental win-win-win successes through sustainable innovation. In particular, the design and commercialization of safer chemicals and chemistries offer opportunities to create wealth, reduce health impacts from chemical pollution, and protect natural systems and life that depends on them.
            "If the benefits of green chemistry are going to be realized by everyone in the world, then green chemistry is going to need to be practiced everywhere in the world," said Dr. Karolina Mellor, director of the Global Greenchem Innovation and Network Programme. "This work builds on the successful 5-year partnership recently completed between Yale and UNIDO that focused on awareness raising of green chemistry in nations without previous experience in this area of sustainable technology," she added.
            "We are fortunate to work with UNIDO once again, as they have tremendous knowledge and experience in the international development arena. It is such a pleasure to engage with UNIDO's network of National Cleaner Production Centers (NCPCs), which are a crucial part of the overall efforts, especially in demonstrating technologies in their respective countries," said Dr. Mellor. The program will conduct demonstration projects related to green chemistry solutions offering alternatives to persistent organic pollutants (POPs), mercury, and microplastics in Jordan, Indonesia, Peru, Ukraine, Serbia, and Uganda.
            "While the Yale Center for Green Chemistry and Green Engineering is happy to be doing this work with UNIDO, the fact is, the Yale Center never does anything alone and we are lucky to have a strong, vibrant, global network of green chemistry champions on every continent that we will engage to make this program successful," added Dr. Paul T. Anastas, Director of the Center for Green Chemistry and Green Engineering.
TO FIND OUT MORE INFORMATION