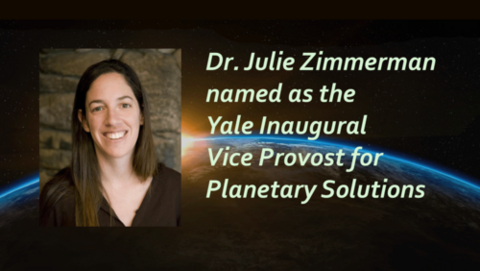 Wednesday, August 9, 2023
Today, Dr. Julie Zimmerman, co-director of the Center for Green Chemistry and Green Engineering at Yale, was announced to be the inaugural Vice Provost for Planetary Solutions at Yale.
Announcing the exciting news, Provost Dr. Scott Strobel wrote, "Julie—who is jointly appointed in the Department of Chemical and Environmental Engineering in the School of Engineering & Applied Science and the School of the Environment—will provide strategic leadership for the cross-university Planetary Solutions Project. Through a broad range of initiatives that include working in collaborative partnership with university leaders, faculty, students, and staff, Julie will focus Yale's efforts on developing and implementing integrative solutions to the large planetary threats we face. She will also build alliances with non-profit organizations, alumni, industry partners, and donors to catalyze innovative actions for positive impact in addressing global challenges."
YSE Dean Dr. Indy Burke added, "I am thrilled for both Professor Zimmerman and for Yale, and I am confident in her ability to make a profound and lasting impact in this exciting new role at the university. Professor Zimmerman is a brilliant and innovative thinker and problem solver, one who is always willing to consider options outside of the box to overcome obstacles and find solutions to today's complex environmental challenges. She is ideally suited for this position."
We know that Dr. Zimmerman will excel at this new position in addition to her current role. Congratulations!
Read the official announcement from the Provost Scott Strobel here: https://provost.yale.edu/news/announcement-vice-provost-planetary-solutions